Foe
This slim novel by the author of Waiting for the Barbarians is both a variant of Robinson Crusoe and a complex parable of art and life. PW noted that the characters' relationships are "an allegory of the evil social order that poisons the author's native South Africa."
Copyright 1987 Reed Business Information, Inc.
The Master of Petersburg
St. Petersburg is poised for revolution as Fyodor Dostoevsky returns from Germany to claim his deceased stepson's papers. Although the police rule Pavel's death a suicide, the famous writer is drawn into a group of shady characters, including the anarchist Nechaev, who is possibly Pavel's killer. Plagued by seizures and tormented by a torrid affair with his stepson's landlady, Dostoevsky struggles to ascertain once and for all a writer's responsibility to his family and society. The strength of South African writer Coetzee (Age of Iron, LJ 8/90) lies in his ability to draw characters and scenes evoking the dark mood of the master's novels. Unfortunately, this story of action and ideas lapses into monotonous debate in its final chapters, but there is much to enjoy despite the flagging plot. Recommended for literary collections.
Paul E. Hutchison, Bellefonte, Pa.
Copyright 1994 Reed Business Information, Inc
Life and Times of Michael K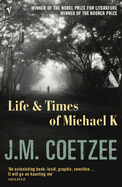 First published in 1983 and winner of the Booker Prize. Set in a turbulent South Africa, a young gardener decides to take his mother away from the violence towards a new life in the abandoned countryside, but finds that war follows wherever he goes. From the author of DUSKLANDS and IN THE HEART OF THE COUNTRY.